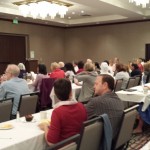 The last weekend in July is the date for the annual NAET symposium. NAET is Nambudripad Allergy Elimination Techniques and it does just that. There are many who  have taken this technique and coopted their own system but I have found this to be the most consistent and tested system around. We encourage our patients to get extensive allergy blood tests before we start treatment and again after we have  been working for a few months. We are developing a solid data bank that supports our work and validates all the efforts on the part of all our practitioners and patients who work with us.
Teachers and students come from around the world. One of our favorite instructors is Sister Naina from Bangalore. She has been running an orphanage there for children with HIV. Since 2005 she has treated more and more children. Current number is around 95. Over the years 18 infants/children and turned negative and have been able to be adopted. The last year's study group of 10 older children have all done very well. These children do not receive anti-retroviral therapy and only NAET. Half of them now have no detectable viral load. The other children have had significant improvement in their viral loads. All the children who come to this orphanage do very well and do not get other diseases because of the NAET treatments and the improved care they receive.
More practitioners from Canada, Florida, Texas and the Middle East.
The main focus this year was Inflammation. Most of us know that stress causes inflammation and gingivitis (gum disease) causes inflammation. Did you know that lack of sleep also causes inflammation? Yuck. Inflammation can kill. We all have lots of work to do to rid ourselves of as much inflammation as possible. For insomnia a NAET specialist has a lot to explore in hormones, neurotransmitters, brain receptors. All these substances can be interpreted as allergens and our bodies develop an aversion to them. Inflammation ensues. Restless leg syndrome may be due to a dysfunction of the Iron receptor leading to low iron levels. When your body says it doesn't want a substance in its world the reaction is an allergic response. We may not interpret it as an allergy – sneezing, cough, diarrhea. A lot can be flying under the radar because there is so much that we tune. The squeaky wheel often is the only issue that gets addressed but the root goes very deep.
The NAET testing and treatment process begins with the Basic 15 to build a solid immune system allowing the body to really be able to absorb all your nutrients. Of course, a new issue that is becoming more dominant is the impact of GMO's. They are tricky devils. These guys can infect your normal gut bugs and permanently alter them, go off and create stealth colonies and coat themselves with film so they can't be found or easily flushed from the guts. New testing vials have been developed to address these issues and as we learn more, we will have more vials to work with.
NAET offers options to people who were convinced there were no more options. This may be you. Please contact a NAET specialist near you by checking out the website: www.naet.com. If you would like to donate to the ongoing research that Sister Naina is conducting or to the NARF Foundation for all our research please visit: www.narf.org.