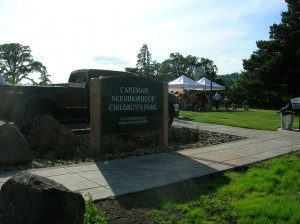 On Thursday June 21 Oregon City and Metro dedicated the new Community Area in the Canemah district. It was the perfect evening for a barbeque and walk. Mayor Neely spoke and there was live music. Kids were enjoying the beautiful new playground equipment.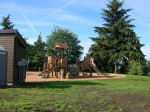 Metro had an information table about what they're doing in the area with maps of the Canemah Bluff and native plant information. There were other booths with Native Americans sharing their arts and traditions. Their work is beautiful.
Canemah overlooks the Willamette River just past the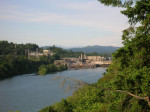 Falls.There are trails through woods and fields. Wild flowers are all over right now. It's a great time to connect with what's blooming and what may have been native in the pioneer days.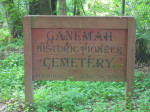 At the south end of the trail there is the old pioneer cemetary, which they had open for us. It was fascinating to see who was around 100 years ago and when people died. There were trends that followed the Great Influenza Epidemic in the early 19-teens and then with the World Wars. The cemetary is not always open. If you want to view it you need to call ahead. There is information on the gate or you can go to this website for more info. http://www.orcity.org/parksandrecreation/canemah-neighborhood-park-grant-awarded
My husband and I first visited the area last fall when construction was still underway. They have done a beautiful job. It is a great place for an evening picnic and hike in a beautiful setting with forest, fields and views to Mt St Helen's. You need to go and check this gem out.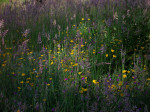 Mallow – Medicinally, the plant's mucilaginous quality  could be used just like the unrelated Aloe vera or cactus: topically as an emollient for soothing sunburns and other inflamed skin conditions, or internally to moisten and soothe a sore throats.
Check our future blogs to learn about the uses of some of our native plants. If you have questions about herbs and herbal medicine feel free to email or call the trained practitioners at Oregon City Acupuncture.